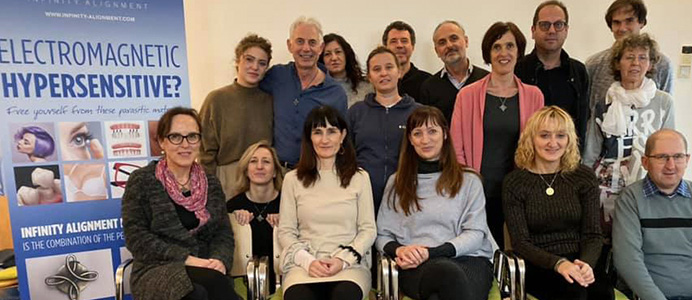 Our body is an open book which shows to the one who can read it what suits him and what doesn't. Its response is indifferent to beliefs, fashions or medical studies. This response does not pass through the conscious mind – it is reflexive. Knowing how to turn the pages enables us to discover the hidden side but, knowing how to read it is knowing how to test it.
As we are aware, we are all continually receiving vibrational information from a wide variety of sources. They interact with our oscillatory system and, depending on our susceptibility, can either be harmful or beneficial to our health. For example, depression, chronic fatigue, fibromyalgia, tension and pain on the lower back, headaches, joint inflammation or lack of concentration are sadly, only some of the effects of Electrosensitivity.
Thankfully, it is possible to test what is affecting you naturally, and once you know, you can take the next steps. For instance, certain materials such as glasses, buttons, hair dye, crowns (teeth) etc… can be extremely harmful to your health. By identifying these and removing/replacing some of them, we will often – if not by the second – ease you back into a state of wellness and greater comfort.
If you wish to ask any questions or to book an appointment do not hesitate to contact me.
Jean-Marc showed me back in February 2020 how things we use and wear make a difference to our health and can weaken the whole system. 
He tested my jewellery, fillings in my mouth, tags on my clothes, etc and showed with active muscle testing the negative impact these had on my body. Jean-marc then helped me find alternatives like a compound for my filling, to help reduce the discomfort my body was going through.
If you are suffering from unexplained symptoms that cannot be explained like fatigue, headaches, joint pains to name a few I would go see Jean-Marc and get tested or even if you want to have optimal health and be your best I would explore if you are electro-sensitive.